2 AND 3 PAYMENT OPTIONS AVAILABLE AT CHECKOUT
0

days
00

hr
00

min
00

sc
Your Direct Path to Unleash the power of your intuition and make informed decisions for greater health and well-being.
Live 3 Day Intuition Immersion
October 25th 12:30pm EST
October 26th 12:30pm EST
October 27th 11am EST
Location: Online Event
Stuck in overthinking and doubt? I have created a step by step process that I personally use to help open and strengthen my intuition to heal my body.
Skip the queu, this is a fast-track to awaken your intuition from RANDOM to ACTIONABLE
Calling All Empaths, Healers, and Highly Sensitives Struggling to Expand and Trust their Intuition..
I recognize your sincere endeavor to untangle life's mysteries, striving to discern the exact steps to move forward in your path.
You're traversing from one mentor/guru to another in your quest to decipher the blueprint for life.
And isn't it intriguing?
Contrary to the narratives advocated by various mentors out there...
All the answer you seek are within you
Your best ASSET is your INTUITION!!!
Here are 5 Misconceptions about Intuition:
#1 You can't always trust your Intuition
#2 Intuition is woo-woo
#3 Intuition is irrational way of making any decision
#4 Intuition is only for the gifted/special people
#5 You will never succeed if you count on intuition
What if I told you these were only myths due to psychological, cultural, and historical factors. We have been conformed to analytics, and logic. What if the best decisions you ever made were from your "gut"!!!
It's time to Unlock the power of your Intuitive Body
Let me share with you a Game-Changing Strategy…
The Intuitive Kickstart for Greater health is your opportunity to embrace your intuitive gifts and transform your relationship with yourself.
Our 3 Day Immersion Program will help
you learn to open your MULTI SENSORY CHANNELS and
gain confidence in trusting your intuition.
This program will help you gain clarity on your intuitive gifts and how to trust
and use them to make decisions in your lite.
Gain the tools and skills you need to create positive change in your life and live in alignment with your true purpose.
You will learn how to access inner wisdom and get clear guidance for making decisions and taking action.
This program will help you heal and transform past negative experiences, so you can move forward with confidence.
You will unlock the 8 intuitive senses. and learn how to use them to receive guidance, clarity and insight
You will also learn how to connect with your higher source and receive divine guidance and support.
2 AND 3 PAYMENT OPTIONS AVAILABLE AT CHECKOUT
Here are some powerful shifts you can
look forward to when you start developing your intuition: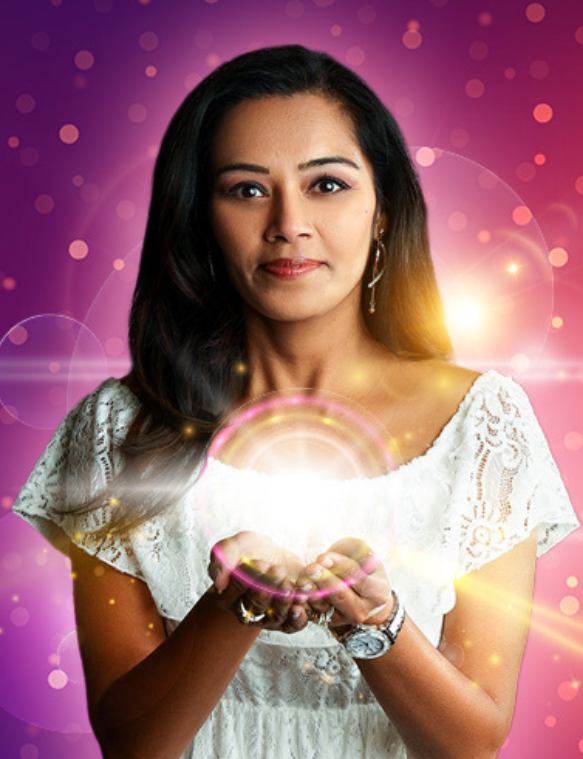 Enhanced Decision-Making

Improved Self-Trust

Better Problem-Solving

Strengthened Empathy

Trusting Life's Journey

Enhanced Introspection

Recognizing Signs and Synchronicities

Spiritual Growth
Empowerment and Independence

Aligning with Your Authentic Self

Reducing Stress and Anxiety

Accelerating Your Abundant Health

Healing Your Body

Healing Others

Manifesting Quicker
Let go the SELF SABATOGE, SELF DOUBT, AND OVERWHELM
and let Dipal show you how to tap into your SUPER-ABILITIES
Whether you stopped using your intuition, don't get enough practice, don't have the right mentor….. Dipal will show you how to start and help you tap into your Multi Sensory Channels.
Your intuitive ability is a powerful asset that has been given to you since birth. It is a tool that can provide guidance, understanding and healing for your body.
A body of research reveals that intuition can be not only faster than reflection but also more accurate. Let Dipal be your guide and show you how.
Dipal is going to share with you HER SECRET
to efficiency when it comes to using your intuition to healing your body
Here is what you will get
3 days of live training designed to give you everything you need to build confidence, tap into your intuition and start healing

Access to a private community where you get to discuss and meet others on the same journey as you

Extra surprises along the way to make sure you get the results you are looking for
This 3- Day Immersion will show you my exact Intuitive Model so you can start to use your intuition everywhere/everyday without the fear
All you need to do is Click the Button Below to Save your Space Now!
2 AND 3 PAYMENT OPTIONS AVAILABLE AT CHECKOUT
On top of learning my method, here are some other intricate details you are going to learn during the 3 Value Packed Days
Day 1:
October 25th 12:30pm to 2:30pm EST
On Day 1 of the Intuitive Kickstart Immersion, you will embark on a journey to unlock the strategies used by those who have harnessed the power of intuition for remarkable success.
You will dive deep into your inner wisdom, truth and glory of what you have been hiding all along. It will become the very essence of your intuitive prowess!! And this process begins with YOU—tapping into your unique experiences and unparalleled energy that only you possess.
Let Michelle Warner, our special guest Medical Intuitive, take you on a journey to tap into your GREATNESS.
Day 2
October 26th 12:30pm to 2:30pm EST
However compelling your intuitive insights may be, they can't transform you if they remain hidden. That's precisely why Day 2 of the Intuitive Kickstart Immersion is dedicated to mastering your intuition.
Harness the Untamed Power of Intuition and learn how to train your prefrontal lobes to orchestrate your thoughts, mind, and intuitive senses
Feel a new sense of Purpose!
You'll be armed with a comprehensive toolkit of strategies by a special guest healer, Mijke Ketting who will enable you to bring your intuition to the forefront, allowing you to create a greater sense of connection and self awareness.
Day 3:
October 27th 11am to 1pm EST
Day 3 of the Intuitive Kickstart Immersion is dedicated to transforming your acquired insights into tangible action, and that action into tangible results. As you journey through this day, you'll gain unwavering clarity on your abilities and a deeper connection to your Intuition.
Guided by the expertise of special guest healer Dana Deangelis who will take you on a journey to higher consciousness.
You, along with your fellow participants, will find yourselves embarking on a fresh trajectory—a journey that leads to heightened awareness, opportunities and purpose bringing you the greatest joy of life.
Bonuses
Bonus 1: Find out who 2 of your Guides are RIGHT NOW in your life (fill out a form and you will receive your Guide Names after Your 3 Day Intuition Kickstart Immersion )
Bonus 2: Receive FREE ACCESS to 3rd Eye, Ajna Chakra and Pineal Gland Workshop on October 13th
Bonus 3: Remote Healing for 10 days: Set your Intention as soon as you register for the 3 Day Intuition Kickstart Immersion and Start Raising your Frequency to Open up Your Intutiive Abilities
Testimonial
I'm experiencing a profound sense of joy! Discovering how the multisensory world communicates has truly enlightened me. I've developed a fresh sense of self-appreciation and a newfound confidence and assurance that I possess the ability to lead a profoundly fulfilling and joyful life. ~Lisa
I can't express how grateful I am. It's been a revelation. The knowledge and practices shared by Dipal have not only improved my physical and emotional health but also deepened my understanding of myself. I now feel more connected to the world around me and have a profound sense of inner peace. The ways to work with Earth energy for our health have been particularly transformative. I've found a renewed sense of balance and vitality. Highly recommended! ~Linda
Dipal is genuine and gives everything in her teachings. She is so inspiring and full of enthusiasm. She helps you build your confidence even when you think you didn't do anything she validates it for you. I loved being part of this and many of her programs. I have finally found so many wonderful tools that I can now use every day. I can't say enough about this and Dipal ~Anita
I have healed my relationship with my husband because of the tools and techniques Dipal has taught me. I used to get stuck in anger and felt a sense of resentment. But now I know and understand the stories behind these feelings. I feel detached from the emotions that I was once so attached to. I am able to see the truth of all the people around me and find love in my heart. ~Marco
I Don't know what is happening to me. My intuition is exploding. My downloads are getting stronger and getting longer. I am seeing, hearing, and feeling things. I am not only seeing my past lives, I am seeing a lot of people I interact with or even random people that pop into my head. ~Daniel
Dear Dipal, Your compassion, vision, and wisdom have made such a difference in my life these past 6 months. You have been an anchor to help me navigate the muddy waters of my psyche. I believe the session of my experience of dread, that I was reliving from my past, relates directly to my sense of unworthiness that has been a core life theme. There is only up for me to go. With the awareness of my dharma becoming crystal clear, I am now climbing the mulberry tree of my childhood and beginning to embrace the pure essence and sweetness of the mulberries of life. With the amazing skills of your healing work and your intuition, I have reached new plateaus in my journey to becoming deeply fulfilled. Thank you from the bottom of my heart for your continuing contribution to my life. ~ Heather
Ever since I practiced what you taught in class with my friend the 1st time, I've sold my father's boat $160 as a project. It's been sitting for 10 years- the motor sunk into the ground before he passed probably 2 years ago. No one wanted to mess with it. ~ Angela
I was on a desperate search for some clarity for myself and my son. I needed get away from the choas and find stability, peace and happiness. Just when I was on this search for help I heard Dipal speak on a summit and immediately she gave me this feeling of trust and how she integrated her healing and spirituality. Dipal's energy, teachings, exercises are so easy and simple yet so profound. ~Desiree
The joy is literally back in my heart and life because I'm able to channel my healing energy work again. It's joyful to get up every day and do the energy work that I love so much and that's because of my healing through your sessions. Thank you so much for helping me get my life back. ~Nancy
The joy is literally back in my heart and life because I'm able to channel my healing energy work again. It's joyful to get up every day and do the energy work that I love so much and that's because of I attended Dipal Shah's Masterclass not knowing what to expect, as I think my intuition is pretty weak. Wow, what a Masterclass! Dipal is a dynamic speaker and has ways to bring people into the class and express what they think which also brings others to contribute. She moved me from not thinking I was that intuitive to believe that there were many ways that I am intuitive, including being a Medical Intuitive. The class was exhilarating! She opens the doors of possibility and with her enthusiasm makes everyone capable of being a great intuitive. ~ Fred
Is the 3 Day Immersion to Intuitive Kickstart for me?
The Intuitive Kickstart Program is tailored to those who are poised for a profound shift—an opportunity to tap into the depths of their intuition and awaken their inner wisdom. This isn't a one-size-fits-all experience; it's crafted for individuals who are ready to embrace their unique journey of self-discovery and transformation.
Within the program, you have the chance to unlock the potential of your intuition and harness its guidance to make more informed decisions. However, this isn't a passive endeavor. It requires your commitment to engage in the inner work necessary for growth. The insights you'll gain are not mystical, but they are incredibly powerful, offering you a pathway to greater self-awareness and clarity.
Consider this a call to elevate your expectations and set your sights on a higher level of understanding and insight. The journey of self-discovery through intuition is within your control—you have the agency to shape your experiences and outcomes, and ultimately, uncover a richer connection with yourself and the world around you.
If you're prepared to embark on a journey of MASTERY and delve into the depths of your intuitive potential, then the Intuitive Kickstart 3-Day Immersion is precisely the transformative experience you've been seeking!
So, are you prepared to sow the seeds of intuitive empowerment and revel in the shade of success they'll bring?
0

days
00

hr
00

min
00

sc
If you are looking to develop your intuition and gain valuable insights into your body? Then join us for our 3-day Intuition Immersion program!
This intensive training includes guided meditations, visualizations, and activities designed to help you sharpen your intuitive skills. With the help of experienced practitioners and coaches, we will explore various techniques for tapping into your inner wisdom and harnessing its potential.
You'll learn how to trust your instincts, make better decisions, unlock hidden creativity, and open yourself up to spiritual growth.
Sign up now for the 3-day Intuition Immersion program and get ready to start a journey of self-discovery!
2 AND 3 PAYMENT OPTIONS AVAILABLE AT CHECKOUT
WHO IS DIPAL?
Dipal Shah is an Internationally acclaimed Self Care Expert and Medical Intuitive. She is a Spiritual Mentor celebrated by clients across the globe. As a recognized expert in the field of Energy Medicine, Dipal is the creator of the Quantum Body Awakening Technique. Dipal has helped thousands in over 92 countries break free from chronic health problems in conjunction with or where western medicine has failed. Dipal has helped her clients create powerful and profound shifts inside and out, allowing them to find more joy and inspiration in all aspects of their life. Dipal has worked with celebrities, health care practitioners, thought leaders, and many more.
She has been featured in Authority Magazine, Thrive Global Magazine, The List TV show, ABC, NBC, CBS and Fox. She shares her knowledge on various topics on Telesummits and podcasts. Dipal's mission is to help empaths over 40 become Master Healers so they can themselves and others heal.
Refund Policy:
No refunds will be issued after the purchase
Important Disclaimer:
Our Website is not intended for children under 18 years of age. No one under age 18 may provide any information to or on the Website. If you are under 18, do not use or provide any information on this Website, make any purchases through the Website, use any of the interactive or public comment features of this Website or provide any information about yourself to us, including your name, address, telephone number, e-mail address or any screen name or user name you may use. We encourage all parents to talk to their children about online safety and to monitor their children's use of the Internet.
The information on this site is NOT INTENDED or IMPLIED to be a substitute for professional medical advice, diagnosis or treatment. WE DO NOT OFFER MEDICAL ADVICE, COURSE OF TREATMENT, DIAGNOSIS OR ANY OTHER OPINION on your conditions or treatment options. SERVICES OR PRODUCTS THAT YOU OBTAIN THROUGH THIS WEB SITE are for information purposes only and not offered as medical or psychological advice, guidance or treatment.Furthermore, please continue to see your regular provider and follow their advice. Please consult a medical professional if you are experiencing illness, depression, anxiety, mood swings or if you have any other medical condition. All content, including text, graphics, images and information, contained on or available through this web site is for general information purposes only. We never share your e-mail address with any third party.
Dipal Shah does not make any promises about the results of her session or MP3s. From a Spiritual perspective the individual's body drives the healing. Although, Dipal's work is very effective and has helped many people you are responsible for your own health's journey.
Consumer Notice:
Dipal Shah is not responsible or liable in anyway for your health condition, including financial, past , present, or future including those of family members. You are fully responsible for your health. As a consumer you are certifying that you are mentally and emotionally capable of intelligently making such decisions.
Don't Miss Out!
Take action here and receive your 3 Special Bonuses before they are gone