Click below to listen to the replay
Discover the root cause of the inability to lose weight

Find out how to let go of excess weight more easily and keep it like that

Learn why your subconscious mind blocks you from losing weight

Realize why you can't control your cravings

Find the hidden blocks that keep you from having a balanced, healthy body weight
Learn what your emotions have to do with feeling both comforted and guilty by eating food

Learn which programs you have running in your subconscious mind that cause weight gain

Discover how lower energies and vibrations can manifest into pounds of body weight

Discover the percentage of energetic weight you carry

Learn how holding on to your trauma makes it more difficult to lose weight
Do you feel like you have tried every diet on the planet?

Have you been dealing with weight issues for a long time?

Do you experience health problems due to being overweight?

Do you find it difficult to control your cravings?

Do you 'cheat-eat' when on a diet?

Do you feel low in energy since you have gained weight?

Do you lack motivation to keep your weight under control?

Do you feel unhappy about your body?

Does the extra body weight makes it difficult to exercise?

Do you feel guilty about weight gain?

Are you tired of all the weight loss plans you tried?
If you answered YES, it's time to get rid of energetic weight, empower your body and boost your energy!
Here are some of the symptoms you might be feeling at this time
Feeling guilty about the extra weight

Being desperate that nothing helps to lose weight

Not being happy with your own body

Have given up trying to lose weight

Feeling ashamed about the weight gain

Experiencing emotional eating, Having cravings all the time

Being worried about the health effects of too much weight

Feeling frustrated about another diet plan
You will experience the following in Mijke's Cosmic Weight Loss Program
Get insight in the root cause of the weight problems

Feel more energetic

Get rid of self-sabotage

Be more optimistic about obtaining the desired results

Get more control over your cravings

Know why you have to lose energetic weight first
Feel more happy in your own body

Realize how you can be in control of your weight

Release negative self-talk about your weight

Get rid of limiting beliefs that cause weight gain

Empower your body to drop weight

Understand why it is important that you let your body know that it is safe to let go of the weight
Mijke connects to your Cosmic energy field to facilitate healing by working with a special high speed healing frequency and light language.
Cosmic Quantum Weight Loss Accelerator Package Details
• Pre-session 25 minute scan
• Pre-session 20 minute energy clearing
• Light Language MP3
• Silent version of the Light Language mp3
• Personal 30 minute one-on-one session
Look at what Mijke's clients are saying
After only 1 session with you my creativity overflows and it is finally combined with purpose and clarity. I feel like I'm on a new threshold, beginning to bloom. Even " Action" which I was blocking, improved slightly. Today I feel almost like a new person, even my eyesight is a bit better. N.S. October 2022
I felt unsafe almost all of my life. After the session to heal my gums I felt a sense of safety coming out of all of my gums and I could fill up my whole body with it. N.S. October 2022
You are awesome, Mijke — I so appreciate your help on this; Thank you so much for your message, Mijke! 🙂 VERY much appreciated!; Thanks for the healing yesterday it was energizing and still goes on. I had a big energy release after the healing so that was great; Thank you again! That session was so powerful and I'm so grateful! I really, really appreciate your going 'above and beyond.' Many Blessings! You and your service to mankind are amazing! I felt healing from the replay, thank you so much!
My granddaughter's eczema is completely gone after you gave her a healing. Her neck was so bad, now it is clear and she is so happy! T.G. September 2022
It was my pleasure and honor to have a healing session with you!
Thank you for your guidance, support and insight. You are an extraordinary healer, with a very unique and beautiful soul!! I am so grateful! Z.B. August, 2022
 I am so grateful to you for the healing time with you and the information which give me so much awareness. I am grateful. Blessings! H.B. July, 2022
 Thank you so much, Mijke. I really resonated with your gifting today and will be reaching out in the future. A.C. June, 2022
I can certainly say this – Mijke is a wonderful, caring person who has extensive knowledge of the chakras and can help bring balance to challenges you may be facing. Her kindness shines through all her work. She is able to accurately pinpoint the sources of misalignment to clear and facilitate healing. I would not hesitate to receive a session with her. 💗 A.K. June 2022
I am very happy with the weekly sessions I had with Mijke. She helped strengthen my energy system during my cancer treatments. She knows what she is talking about and is very good in translating results to your personal circumstances, which enables you to move forward. She works very diligently, is emphatic and trustworthy. But above all Mijke has a warm personality and a great sense of humor. You really work together with her which is very fulfilling.
C.L. March 2022.
I am still feeling the energies moving…yay!  And wanted to let you know that I just got the biopsy news and all was NEGATIVE!!!! I am doing a happy dance! I also wanted to let you know that I have been writing up a business offer and haven't resonated with it…too serious, heavy.  However, after your session the playful, light NON-pushy sales words starting flowing easily.  I know whatever you cleared is making a shift already! So with much gratitude, I say thank you and I look forward to working with you again!!
February, 2023
Mijke is a multidimensional energy healer, channel and medium. As a Certified Medical Intuitive, Akashic Records reader, Emotion Code practitioner, professional Aura reader and SRT practitioner, she has a unique and customized approach to help her clients. The messages that channel through her tend to guide the healing in a way that best supports the client to break through their blockages and get clarity on their life's purpose.
Mijke connects to a Cosmic energy field to facilitate healing and awareness by working with a special high speed healing frequency and light language. She works on multiple dimensions, connects to the Crystalline energy of the earth, the Order of the Galactic Felines and shares light language messages as needed. Mijke has had an extensive career as a professional coach and manager and is an expert in what drives and motivates people. Mijke also loves to work with animals to aid them in their healing and to share messages with their families.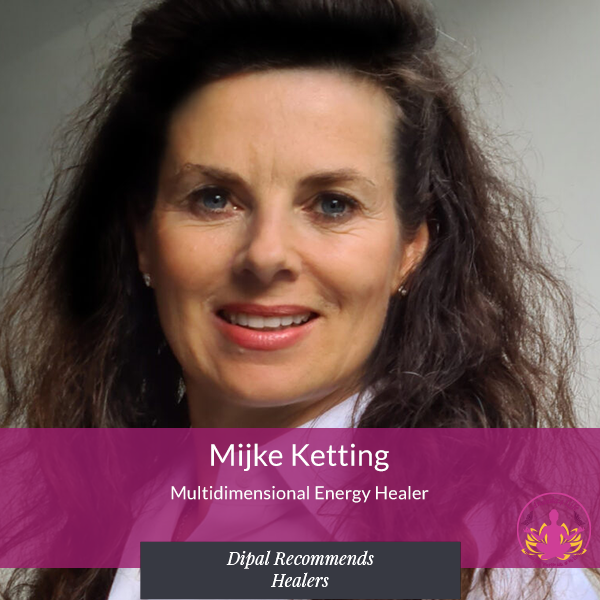 • Pre-session 25 minute scan
• Pre-session 20 minute energy clearing
• Light Language MP3
• Silent version of the Light Language mp3
• Personal 30 minute one-on-one session
DISCLAIMER: The information on this site is not intended or implied to be a substitute for professional medical advice, diagnosis or treatment. All content, including text, graphics, images and information, contained on or available through this website is for general information purposes only. Please see a medical professional if you need help with depression, illness, or have any concerns whatsoever.
WE DO NOT OFFER MEDICAL ADVICE, COURSE OF TREATMENT, DIAGNOSIS OR ANY OTHER OPINION on your conditions or treatment options. SERVICES OR PRODUCTS THAT YOU OBTAIN THROUGH THIS WEBSITE are for information purposes only and not offered as medical or psychological advice, guidance or treatment.
CONSUMER NOTICE: You should assume that Ananda 4 life has an affiliate relationship and/or another material connection to the providers of goods and services mentioned on this page and may be compensated when you purchase from a provider. You should always perform due diligence before buying goods or services from anyone via the Internet or offline.
IMPORTANT NOTE: No refunds on any packages, sessions, mp3s, on demand healings once a purchase is made unless otherwise written in the package. You can receive credit within 30 days of purchase and use it towards something else. In addition, there is no credit or refund for differences when a sale is in place even if you happen to purchase within 30 days.